Making Things Beautiful / Making Beautiful Things is an interactive book that investigates the difficulties and delights associated with the human drive to create.
Purchase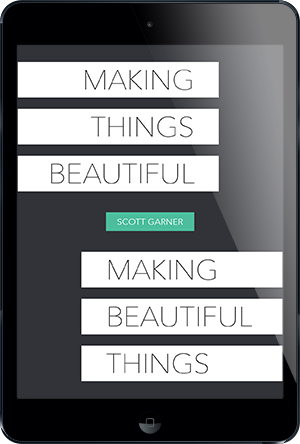 I wrote this book for my master's thesis at NYU to examine my creative process and perhaps help others struggling with their own.
Buy it now for iBooks on your iPad or Mac, or download a sample chapter for free.
---
Features
8 chapters and 40+ subsections on creative work.
52 pages of retina-quality design explorations.
Interactive illustrations and annotations.
Free updates to future releases.
Prints

Every page features a unique design exploration. A selection of these artworks are available as high-quality prints from INPRNT and Society6.
---
SHOP INPRNT
SHOP SOCIETY6
Early Access
This book is available for half price as an "early access" product while I continue to expand and refine its content and functionality. If you stumble across any problems, please file an issue.
---
ISSUE TRACKER
Learn More
For more information on the development of this project or to find images for press coverage, use the links below.
---
THESIS SUMMARY
HI-RES IMAGES